N E W T R A I N
At long last!
Recorded in 1973....Released September 26, 2000

Song List:
1. Gonna Move
2. New Train
3. Jet Airliner
4. Wait On What You Want
5. Venutian Lady
6. Cosmic Mirror
7. Let's Move And Groove Together
8. Indian Boy
9. A Bit Of All Right
10. Taking Your Love Down
Produced by: Ben Sidran
Special guests on the album include: Jerry Garcia, Merle Saunders, and The Persuasions.
Press Release
Released on Hybrid Recordings

Soundtrack to the Oscar Nominated Documentary,
Genghis Blues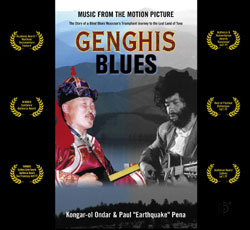 Song List:
1. What You Talkin' About?
2. Alash Hem (The Alash River)
3. Gonna Move
4. Kaldak Hamar (The Other Side of the Mountain)
5. Tras D'Orizão (Beyond the Horizon)
6. Ondarnyng Ayany (Ondar's Medley)
7. Kargyraa Moan
8. Eshten Charlyyry Berge (It's Hard to Lose a Friend)
9. Kongurey (Where Has My Country Gone?)
10. Dürgen Chugaa (Fast Talk)
11. Sünezin Yry (Soul's Song)
12. Center of Asia
13. You Gotta Move
14. Tuva Farewell
Bonus tracks:
15. Genghis Blues Soundbites
16. Kaldak Hamar (Live)
17. Eki A'ttar (Good Horses) (Live)
Buy Genghis Blues Online
from Clarion Music
Produced by: Ralph Leighton for Friends of Tuva
Associate producers: Lemon DeGeorge and Roko Belic
Released on Six Degrees Records Nov. 7, 2000


Genghis Blues available in VHS and DVD
on December 7, 2000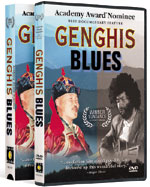 Genghis Blues, brought to you on VHS and DVD by Docurama, a documentary marketing and distribution company, will be available in stores on December 5, 2000. To order now, visit the Tuva Trader website
PAUL PENA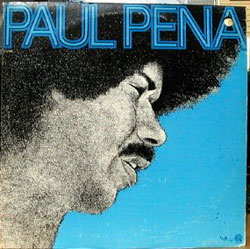 Paul's first Album (on Capitol Records)
Capitol ST 11005
Musicians on this LP include: Jeff Baxter and Jumma Santos

Side One : - Woke Up This Morning - I'm Gonna Make It Allright - The River - One For The Lonely
Side Two : - Something To Make You Happy - My Adorable One - When I'm Gone - Lullaby
This was only released in vinyl. Occasionaly you can find it online (ebay) or in used record stores.